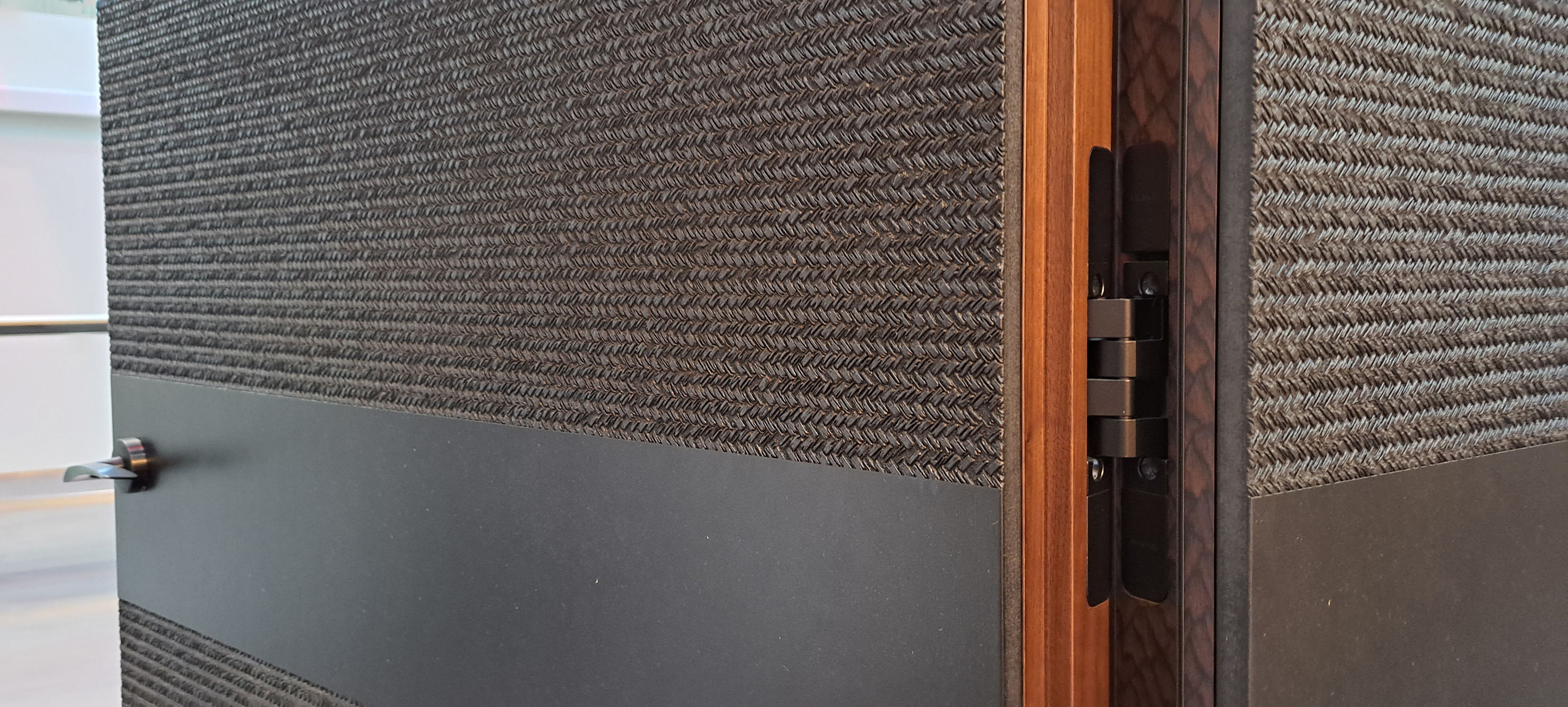 BAU 2023: Visiting BaSys customers
For 20 years now, BAU has set the rhythm for our innovations. But we also consider this trade fair valuable because we find ourselves in the midst of our customers in Munich every time. We were happy to take advantage of the 2023 edition to visit a few neighbouring stands and find out how door manufacturers are developing with BaSys products. Our tour starts with Markus Bichler and his team and takes you in alphabetical order to Schüco Interior Systems.
Alongside AGS Systems, the Bichler door factory is part of the "trio infernale" for flush wall doors. Accordingly, our hinges are found in the frameless systems.
With "Sense" we found a first highlight at the Bod'or KTM stand. Here, our concealed hinges in combination with the "Cube" frame form a frame door construction with which up to four, 530 x 2,400 mm door leaves can be folded. Johannes Thesing, Business Lead Field Service, demonstrated this to us in a short video. Next to it, we found our "Pivota DX 78 3-D" on the stand. Its narrow construction is suitable for doors that open into the reveal.
The Grauthoff door group right next door is "thoroughbred" in terms of striking plates with BaSys. Two trends are followed: minimalist design and dark surfaces. When the lock is increasingly integrated into the lever handle, short striking plates are mainly used – then in the "satin stainless steel" and "black" finishes.
The colour black also dominates at Herholz, both for concealed hinges and for BaSys heavy duty hinges. The black fittings are an integral part of the new "New Living" range, where they cut a fine figure in combination with door leaves in mist, rock or titanium grey, in natural oak tones, but also on framed doors with direct glazing. With our concealed hinges, the wall- and frame-flush "Frame" variants in particular can be realised. Our special attention was drawn to the "Objecta" hinge "2049/160/56 FD" used in pairs in a garage side door, which not only meets requirements for smoke, fire, sound and burglary protection, but is also suitable for damp rooms, offers thermal protection and climate stability – multifunctional performance!
Our "Pivota DXS Close" was difficult to find at Hörmann. We had assumed it to be in the interior door area, but found it in the steel frame area. But well, even there the concealed hinge, which integrates the door closer immediately, showed reliable function for doors that close gently and automatically.
The concealed hinge "Pivota DX 61" can be found – in matt black, of course – for flush-mounted variants in Huga's "Signum" range. A longitudinal, transverse or curved milled V-joint forms the characteristic look for this door series.
"For us, BaSys hinges are the ultimate solution for flush doors," says Alexander Koch of Koch Türen in Steinach, Austria. At BAU, the company showed its "Infinity" (mirrorless) and "Avantgarde" ranges. In the "Avantgarde" range, the frame and the edge of the cladding are on the same level and are connected by a joint. This gives the floor system elegance and solidity. At the trade fair stand, we also discovered doors that open into the reveal ("Return") and that achieve sound insulation of up to 47 dB with a facing shell and sealing level.
Lebo works with our striking plates for its flush doors, which are used as magnetic striking plates and/or with an adjustment function.
Schörghuber uses our concealed hinges to build flush flat entrance doors up to 1.25 x 2.50 metres in size, equipped with modern technology (access control, door closer, freewheel, cable transition), which often blend harmoniously with side panels and top panels that also open. In addition, our concealed hinges are used in the "Zeroline" line. In the case of flush doors, the frame merges with the wall. An interesting application of our hinges is in a special door that achieves a sound insulation of 42 dB with only one sealing level. The soundproof door is tested as a complete barrier-free element and can be equipped with T30 fire, smoke and burglary protection functions. The highlight for us at Schörghuber were the doors with double-sided doublings of up to 24 mm, which also open into the reveal with our hinges – used here in black.
We met a relatively new customer with Schüco Interior Systems. Our concealed hinges perform their service in the aluminium partition wall system "AP VS 43 ST". With a maximum height of 4.00 metres, the modular construction opens up flexible planning options. Thiemo Ernst, Product Management Schüco Interior Systems KG, installed the system himself at BAU: "I was really surprised how easy it was to adjust the high door three-dimensionally thanks to the hinges."